Thank Max on anniversary of Heritage Act
"We're delighted Sen. Max Baucus has agreed to introduce in Congress the Rocky Mountain Front Heritage Act, which will an additional set of protections to a swatch of the landscape held near and dear to generations of Montanans and one of the wildest places remaining in the Lower 48. The loud ovation Baucus received Friday afternoon at Montana Outdoor Sports when he announced he would carry the bill is an ovation to which all Montanans should lend their voices."– Helena IR Editorial, 10/30/2011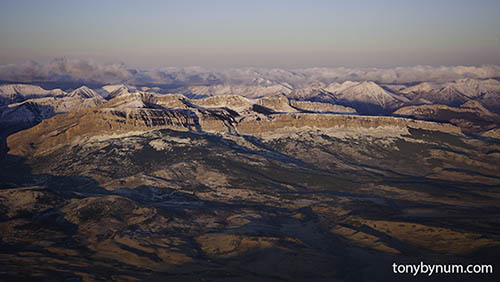 One year ago, Senator Baucus introduced the Rocky Mountain Front Heritage Act. The Front is a vital link in the larger Crown of the Continent ecosystem. Please take a moment this week to email Max and thank him for his leadership at http://baucus.senate.gov/?p=contact.
Here are some points about the Heritage Act you might consider mentioning:
I support the Heritage Act because it's local–
It's not coming from somewhere else, it's coming from people who live here and understand Montana's needs - local landowners, ranchers, outfitters, anglers, hunters, wildlife managers and recreationists.
It's been custom-tailored, moderate proposal that meets the needs of many different types of people. Although it won't satisfy everyone it was built through collaboration which means everyone involved had to reach a middle ground together. It balances a wide array of interests including ranchers, hunters, motorized users, and conservationists.
I support the Heritage Act because it protects a special place –
I want my kids and grandkids to experience the Front the way I have. To be able to hunt, fish and see wildlife along one of the wildest most unspoiled stretches of the Front Range. It still remains largely unchanged compared to the Front Range of Colorado or the Wasatch Front of Utah.
I support the Heritage Act because it protects our hunting heritage –
The Front is one of the most productive big game areas left in the country.
The protective designations will ensure secure habitat for big horn sheep and mountain goats and protects transitional habitat for elk and mule deer through the custom-tailored Conservation Management Area. For wildlife management, knowing what can and cannot happen in an area allows biologists and game managers to better plan and adapt as habitat conditions change.
The Heritage Act continues a proud tradition of sportsmen protecting big game habitat that began with the Sun River Game Range a century ago.
I support the Heritage Act because it ensures a place for everyone -
It will protect public access for fishing hunting camping horseback riding and hiking – it doesn't take anything away from anybody, and it keeps the Front the way it is today.
Not one mile of motorized trail is removed.
Breakdown for the Birch Creek South Travel Plan (according to the Forest Service):
- 15 miles of routes open to ATV and motorcycles
- 70 miles of route open yearlong to street legal motorized vehicles
- 15 miles of route open seasonally to street legal motorized vehicles
- 9 miles open street legal ATVs and motorcycles (no passenger vehicles)
- 46 miles open seasonally or yearlong to motorcycles (no ATVs)
I support the Heritage Act because Noxious Weeds are a common enemy -
Locals, land managers, and sportsmen agree that weeds are one of the greatest threats to the ecological and economic integrity of the Rocky Mountain Front. Comprehensive weed control measures in the Heritage Act would set up a first-line of defense to prevent the spread of noxious weeds from public lands onto private lands on the Rocky Mountain Front.
blog comments powered by

Disqus
---