Members of the Coalition are welcoming the interest of Congressman Daines who has announced a listening session on the Rocky Mountain Front.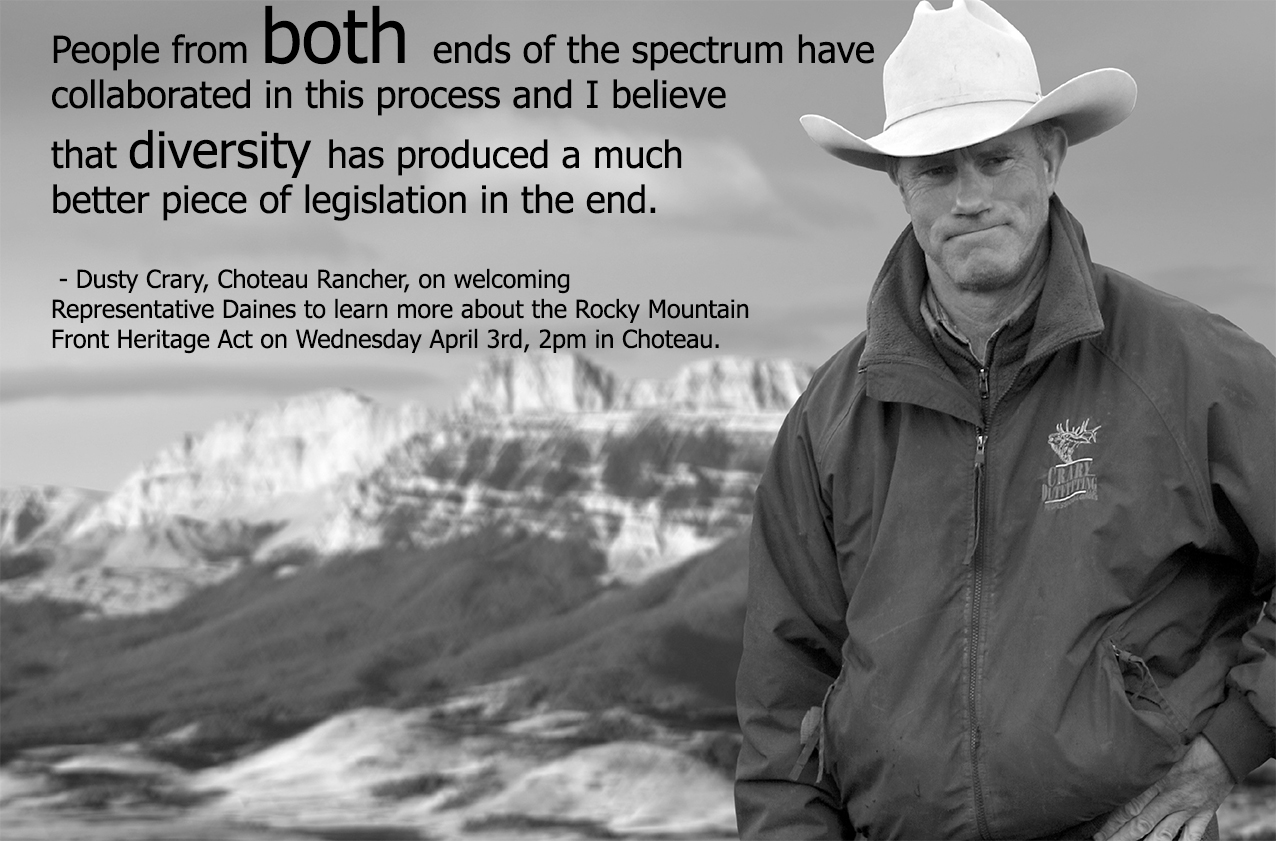 The listening session will be held on Wednesday April 3, at 2pm at the Choteau, Pavillion, 306 1st St. NE.
The Heritage Act was reintroduced in the Senate earlier this winter by Senator Max Baucus, on the hundred year anniversary of the bipartisan Sun River Game Preserve. Prior to that, the legislation had been worked out locally for the past six years including nine previous public listening sessions, four of which were held by Senator Max Baucus and one by former Congressman Rehberg.
Can you attend? If you can please RSVP on our Facebook page or send us an email at savethefront@gmail.com
Can't make it? That's ok, Representative Daines still wants to hear from you. Please send a quick note to Erin Gabrian, Rep. Daines' point person for natural resources at Erin.Gabrian@mail.house.gov.
We also encourage you to call the Congressman's office in your area:
Great Falls District Office: 406-315-3860
Helena District Office: 406-502-1435
Missoula District Office: 406-926-2122
Billings District Office: 406-969-1736
This is an important moment for bipartisanship. Consider using the points below to help urge Representative Daines to do what it right for Montana.
Daines can bring Montana compromise back to Washington:
The Heritage Act is a lesson in home-grown compromise that Representative Daines can take back to Washington, DC. The Rocky Mountain Front Heritage Act is about people putting politics and personalities aside to advance common-sense solutions. Republicans and Democrats alike support the bill. We may not always agree on everything, but we can agree to keep the Front the way it is.
Local solutions are best solutions for the Front:
Montanans are the best stewards of our land. That's why Representative Daines should support a locally crafted solution that keeps the front the way it is – reasonable motorized access, weed-free healthy ranches, and world-class backcountry that supports our cherished traditions.
Heritage Act is good for Business:
The Front has some of the most productive habitat and ranchlands left in the country and that's money in the bank for surrounding communities. Hunting data from Montana Fish, Wildlife and Parks alone shows more than $10 million is spent each year along the Front by sportsmen in seasonal pursuit of elk, mule deer, and upland game birds. As a businessman, Daines can help support Montana's hunting, recreation, and agricultural economies by supporting the Heritage Act.
Big Game Needs Big Country:
The Heritage Act will help sustain America's second-largest migratory elk herd and Montana's largest bighorn sheep population by protecting the habitat they depend upon. It will also protect our traditional access and future opportunities to hunt in this truly wild country. Congressmen Daines can help build on a proud tradition of sportsmen protecting the big game habitat on the Rocky Mountain Front which began with the Sun River Game Preserve a century ago.