Survey shows more resources needed to control noxious weeds on Front
CONTACT:
Joe Kerkvliet PhD., Resource Economist - The Wilderness Society: 581 9826
Paul Wick, Teton County Weed District Coordinator: 466- 2155
Alan Rollo, Teton River Watershed Group: home 727-4437, cell 799-8874
Casey Perkins, RMF Weed Roundtable Coordinator and Weed Whacker Rodeo Organizer: 466-2059
Joe Perry, farmer, Fairfield: cell 450-3013, home 627-2369
Local weed groups encouraged by promise of Heritage Act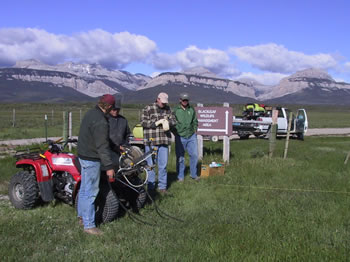 Spraying at community spray day event. Photo courtesy of Mark Korte
Choteau, Mont. – A new survey shows land managers on the Rocky Mountain Front face significant hurdles to control the spread of noxious weeds but renewed commitments and new resources could help them get the job done.
Working on behalf of the Coalition to Protect the Rocky Mountain Front, The Wilderness Society commissioned Oregon State University to conduct the survey. The results show that noxious weed budgets are insufficient and serve as an obstacle to protecting the wildlife and working landscapes on the Front. To increase their effectiveness, land managers need to double expenditures in addition to improve other tools that better track weed infestations and promote inter-agency cooperation.
"Our land managers are saying they lack the tools and resources to beat back the threat of noxious weeds," said Joe Kerkvliet, a senior economist at The Wilderness Society, who helped Oregon State University administer the survey. "We wanted to get a sense of what they needed, and what we found was a huge opportunity to improve the situation."
Experts around the state are in lock-step that noxious weeds are a serious threat to Montana's way of life. The Montana Weed Control Association calls noxious weeds the greatest threat to Montana's environment because weeds reduce the productivity of farms and ranches, degrade water quality, impoverish native wildlife habitat, and can reduce tourism-derived revenues.
Paul Wick, is a board member of the Montana Weed Control Association from Choteau and says that unlike some other parts of the state, the Rocky Mountain Front is well positioned to succeed in the battle against noxious weeds but that a larger push is needed.
"We are dealing with a very persistent enemy that slowly chokes out small-town economies," said Wick, who has worked to control noxious weeds in Teton Country for over 10 years. "But if we put the time and energy in now, the Front, and everything we love about it, can still be saved."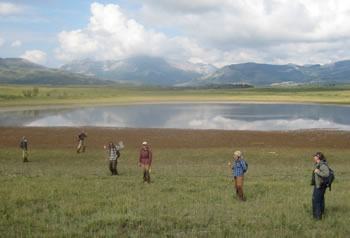 Helena-based Montana Conservation Corps crew mapping weeds on private property up Birch Creek. Photo courtesy of Casey Perkins
The Front is fortunate to have the Rocky Mountain Front Weed Roundtable, which brings together an engaged community of land owners, land agencies, ranchers, and farmers to combat weeds each year. On Saturday, July 10th, the group hosts the 13th annual Weed Whacker rodeo, which will bring in dozens of local volunteers from several counties. And on Saturday, July 17th, the popular Teton Canyon Weed Pull takes place. Both events start at 8:30 a.m. and provide great opportunities for reporters to talk with diverse interests who live, work, and recreate along the Front. Contact Casey Perkins for more information on these events.
One of this year's event organizers, Alan Rollo is thrilled by the level of volunteerism and participation by local businesses, but agrees with the new survey's underlying message, that local efforts are still largely resource starved.
"After you've been in this business for a while, you start to realize the scale of the problem, it's like David battling Goliath." said Rollo. "Weeds are the common enemy, and we welcome any new ways of dealing with them."
To that end, Rollo's group, the Teton River Watershed Group recently sent in a letter of support for the new tools and resources envisioned by the proposed Rocky Mountain Front Heritage Act. The group, who has been fighting weeds since 1995, said the proposed legislation would "place a high priority on the prevention, eradication, and control of noxious weeds on the Rocky Mountain Front."
Montana's hunters and anglers agree, in a letter supporting the Heritage Act, eight groups stated their support for fighting noxious weeds, "Only by conserving both public and private lands can the Front remain as it is. That is why we feel strongly that increasing the amount of time, money and effort to combat the invasive weeds that are slowly gaining ground on our elk winter habitat, backcountry, family ranches, and those all important state lands is critical in keeping the Front the way it is."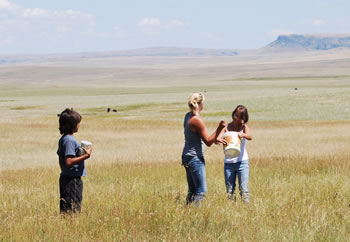 Augusta kids helping with a leafy spurge beetle collection on the Broken O Ranch. Photo courtesy of Casey Perkins
The survey also found the following:
Public agencies and private organizations spent about $1.1 million on RMF weed management in FY 2009.
State and federal funds contributed roughly 60 percent of funds, while 35 percent came from the county.
Agencies treated 20,433 acres of public land for weeds in FY 2009, as well as 2,438 acres of private land.
Treatment costs for the respondents' agencies averaged $61 per acre.
Land Managers estimated that a 96 percent increase in budget is needed to accomplish the agency's mission.
Land managers spent 60 percent of their budget on combating spotted knapweed, 25% on leafy spurge, 7% on Canadian thistle, 3% on hounds tongue, and 5% on various other noxious weed species.
Agencies spent an average 81 percent of their budgets on control/eradication, 12% on prevention, and 7% on education.
In addition to more funding, other needs included landscape mapping information, spatial location of current infestations, a database of the effectiveness of treatments, sharing information, and collaborative monitoring efforts.
Read the executive summary and report "The Economics of the War on Weeds on Montana's Rocky Mountain Front"
---