Statement from Dusty Crary, Teton County rancher and member of Coalition to Protect the Rocky Mountain Front, in response to the Rocky Mountain Front Heritage Act clearing the Senate Energy and Natural Resources Committee this morning by unanimous consent:
"Folks on both ends of the political spectrum hashed this legislation out so I'm pleased that spirit of cooperation was reflected back at us with today's unanimous vote. It's important to thank Senator Max Baucus for showing leadership here and remaining committed to getting this done.
The Heritage Act has been custom tailored to meet the needs of traditional uses while also protecting the beauty of the Front for future generations. It took a lot of work to get this bill just right and I hope today's bipartisan momentum can carry it forward to the finish line for us.
I think this is the type of positive sign that folks expect from Congress. Things like gridlock or government shutdowns aren't as impressive as just sitting down, listening to each other and tackling the job at hand. That's what we did when we put this bill together and that's what Congress has the power to do by passing the Heritage Act for Montanans."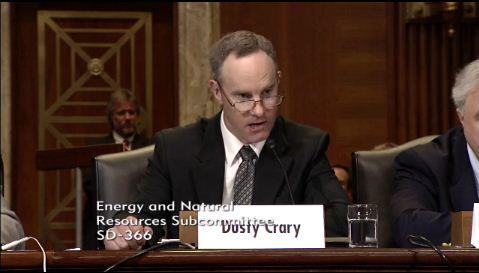 Dusty Crary, testifying on behalf of Rocky Mountain Front Heritage Act in March 2012.
---