Catching up with Bill Cunningham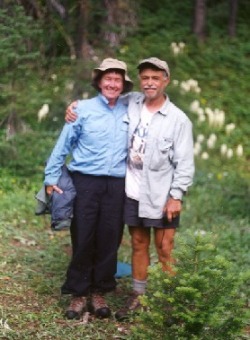 Bill Cunningham doesn't have much time to sit down. He's too busy hauling trout in from the streams and lakes of the Rocky Mountain Front or hiking up and down the hills. In his sparetime he and his wife Polly run their small business, 'High Country Adventures' and advocate for the protection of the public lands that allow them to make a living in Choteau.
Speaking of protecting the Front, Bill just finished touring the state and informing Montanans about the Rocky Mountain Front Heritage Act (we told you he was busy.) We were fortunate to have a chance to slow him down for a spell so he could explain some key points for anyone who missed the public presentations:
Coaltion to Protect the Front (CTPF): Why are you so passionate about the Rocky Mountain Front?
Bill Cunningham (BC):It's my vision quest. I work here and I live here. Over 10 years ago the Coalition to Protect the Rocky Mountain Front was started in order to address the threats of oil and gas leasing in our last best place. No one single person would have been able to tackle that threat alone. So various groups of concerned citizens from across the political spectrum started the Coalition to find solutions that worked for Montana. The common badge we all wear is that we just want to 'Keep it the way it is.'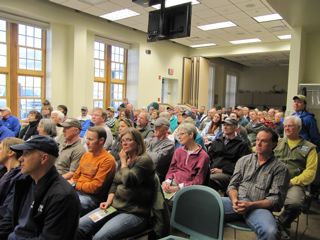 A crowd in Helena listens to Bill talk about the Front.
CTPF: And nowadays your working on the Rocky Mountain Front Heritage Act. What's so unique about this legislation?
BC: It isn't a mandate handed down from Washington. It is made-in-the-Rocky-Mountain-Front, for the Rocky Mountain Front. It is a grassroots made-in-Montana bill that strikes a careful balance between our natural and social heritage. It maintains land for hiking, hunting, grazing, backpacking, and other uses.
The Heritage Act keeps the Front as it is, and in doing so recognizes the landowners along the Front for their stewardship. If they hadn't done a good job, we wouldn't want to keep the land the way it is.
CTPF:Why have you dedicated so much personal time to this effort?
BC: The bill will protect the legacy of the Front for our grandchilren and their children. It's very important that we aren't reacting to a threat after the fact, but we're trying to get ahead of the curve. This isn't an opportunity that comes along every day. Change will come and the bill will help preserve the land for future generations.
CTPF: What can Montanans do to learn more about the Heritage Act or to help out?
BC: They can sign up on our mailing list to get updates on its status. The Heritage Act was introduced by Senator Max Baucus last fall and recently cosponsored by Senator Jon Tester. The only member of Montana's delegation who hasn't supported the project yet is our Congressmen Denny Rehberg. Montanans need to contact his office and let him know to get behind this.
This proposal has real legs. Now we need to help walk it into fruition.
---